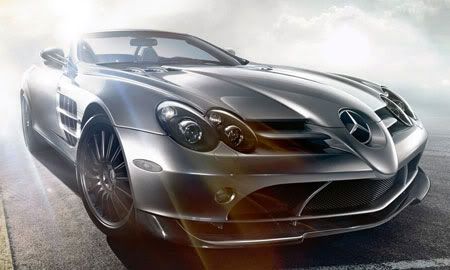 Mercedes Benz has unleashed one of the biggest craze this year, the all new 2009 Mercedes-Benz SLR McLaren Roadster 722 S. The new Roadster 722 S is powered by a 5.5L V8 AMG engine delivering 650 horsepower and maximum torque of 604 lb-ft. The engine is associated with a five speed automatic transmission which is designed for high performance. The car accelerates from 0 up to 100 kilometers per hour in 3.7 seconds and a top speed of 335 kilometers per hour. Mercedes claims that this two-seater car's soft-top is capable of withstanding high speeds exceeding 200 miles per hour which is made of carbon fiber.



With a rigid spring and shock absorber configurations on its suspension, the SLR McLaren Roadster 722 S body is lowered by 10mm on its front and rear, making it sure that the car has a guaranteed handling stability. A 19-inch lightweight forged aluminum wheels allows a nice view of the red painted brake calipers made from a highly-resistant carbon fiber ceramic brake discs.


There will only be 150 limited-edition 2009 Mercedes-Benz SLR Roadster 722 S models to be sold.